<<< Back to Guest Artists' Rooms
Guillermo Castaño Ramírez
Presented by The Angel Tarrac Virtual Museum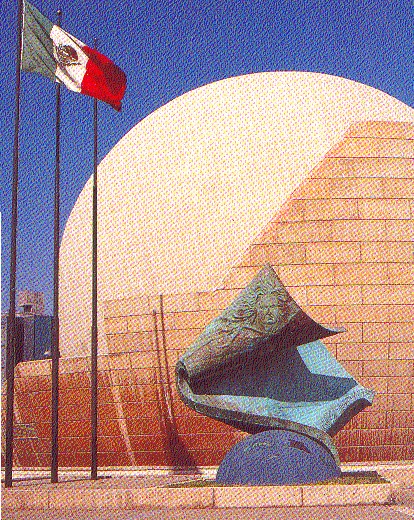 "Quinientos Años Cristobal Colón" (500 Years Christopher Columbus), Gullermo Castaño, 1999. Behind the artist's monument is the spherical building of the Tijuana Cultural Center, Mexico. Photographs: Guillermo Castaño R.


The sculptor Guillermo Castaño Ramírez was born in 1938 in Mexico City. His father, Guillermo Castaño Alvarado was also an artist who
completed his art studies in Mexico City as well as in the USA, where he
studied with Cottini, Mestrovic and Baker. He was awarded the "Oro Verde" (Green Gold prize), for his work as a sculptor and ceramist. Castaño Alvarado was an art professor in several universities in
Mexico.

Guillermo Castaño Ramírez casts his own sculptures in bronze, using the 'lost wax' process and creates his own patinas in his studio located in La Presa area, near Tijuana, Mexico. He also produces sculptures in ceramics.

Castaño attended the "Academia de San Carlos" (Fine Arts Academy in Mexico City). From 1962 through 1965, Guillermo was an art professor at the Universidad Iberoamericana, a prestigious university in Mexico City. From 1966 until 1980, he taught art in middle school at the Secretariat of Education and in high school at the "Escuela Nacional Preparatoria" of the Autonomous National University of Mexico (UNAM).

A few of Castaño's numerous awards are Second Prize in the Biennal of Latin American Sculpture in Washington D.C., Frankhoma Award of Sculpture, Oklahoma, and first prize, Silver Award of Best Educational.

The artist is a member of the International Sculpture Center, belongs to the board of directors of Artist & Sculpture Bronzes Inc. in Los Angeles California and is the artistic director of "Bronces Artisticos" in Tijuana, Mexico.

Castaño's works have been displayed in 45 collective exhibits (1957-1991), and 17 individual exhibits (1965-1991). Some exhibits took place in the World Trade Center in Dallas, Texas, the World's Fair, in New York and San Antonio, in the USA, and the "Galería Mer-Kup" in Mexico City.

One of Guillermo's sculptures is located at the Art Museum of Washington. Between 1963 and 2001, Guillermo has produced forty-nine public monuments in Mexico and the United States. He is the author of several monuments in bronze in the cities of Los Angeles, San Diego and Las Vegas, dedicated to Walter Brennam, Joel Mc Crea, Adolfo Camarillo, "San Diego de Alcalá", The Last Supper, just to mention a few. His largest monuments are 500 Years Cristopher Columbus in Tijuana, and Monument to the Mayan Culture in Tuxtla Gutiérrez, Mexico.

The artist and his works are referred to in the "Diccionario de Escultura Mexicana del Siglo XX", an art dictionary published by the Autonomous National University of Mexico (UNAM), among other publications.


Equestrian Monument. Adolfo Camarillo, Guillermo Castaño Ramírez, bronze, 2000, Los Angeles, California.
The contents are copyright protected for the authors/ owners worldwide.